11,112
2020-04-22 | Time to read: 9 minutes

Author: Simagin Andrey
Many SEO specialists conduct technical site audits on a daily basis. The vast majority of them use web crawling tools such as Screaming Frog SEO Spider or Netpeak Spider. These tools cost £149 and $182 respectively. Of course, you can use Screaming Frog to crawl up to 500 URLs, which is too low for a serious project. You will probably agree that not all SEO freelancers can afford to spend over $150 on software like that.
Both of these tools are very decent, but we would like to get something cheaper. A lot cheaper or even free!
There are many web crawling tools like Screaming Frog and Netpeak Spider, both free and paid. However, most of them lack functionality or are not supported for some reason.

In terms of paid software, choices are obvious: people usually use Screaming Frog, Netpeak Spider, or WebSite Auditor. However, finding their decent free counterparts is rather difficult.
We will try to do it in this article.
Some of the free alternative SEO website crawlers:
As you can see, there are more than enough free alternatives to paid site crawlers. However, most of them are lacking functionality. That is why I want to focus on one tool from the above-mentioned options – SiteAnalyzer (https://site-analyzer.pro/).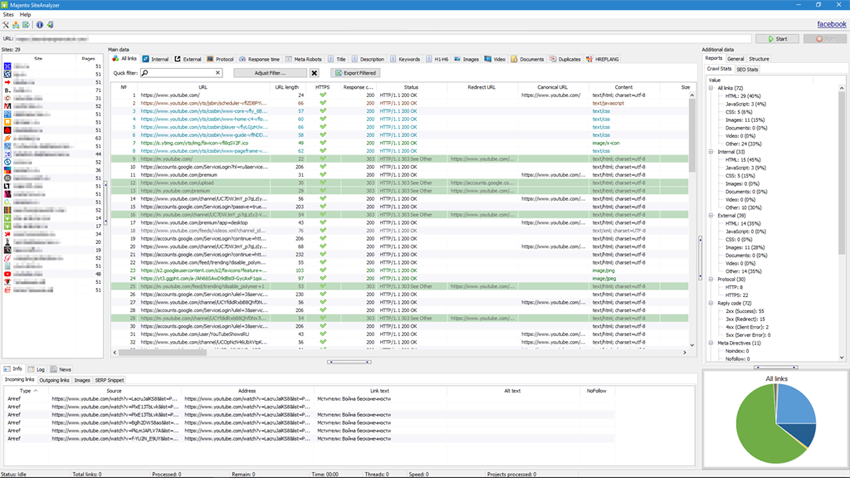 The tool looks similar to Screaming Frog SEO Spider and copies about 80% of its functionality. Therefore, experienced SEO specialists will easily figure out how to use it. Beginners should not experience many problems either.
Quick Access to Projects
The main difference between SiteAnalyzer and Screaming Frog is that you can store all websites in a single database as a list of projects. Thus, you do not need to spend your time saving a project to a hard disk and then downloading data from it. Instead, you simply choose a project from the list and get all its pages with detailed information on each of them within a few seconds.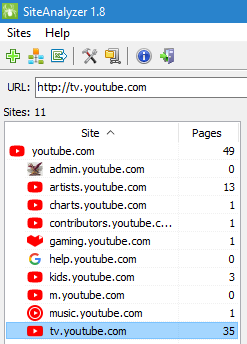 Data Visualization
Website structure visualization on a graph in SiteAnalyzer is capable of displaying from 100,000 nodes or more. At the same time, Screaming Frog is having a hard time dealing with 10,000 nodes even on powerful PCs.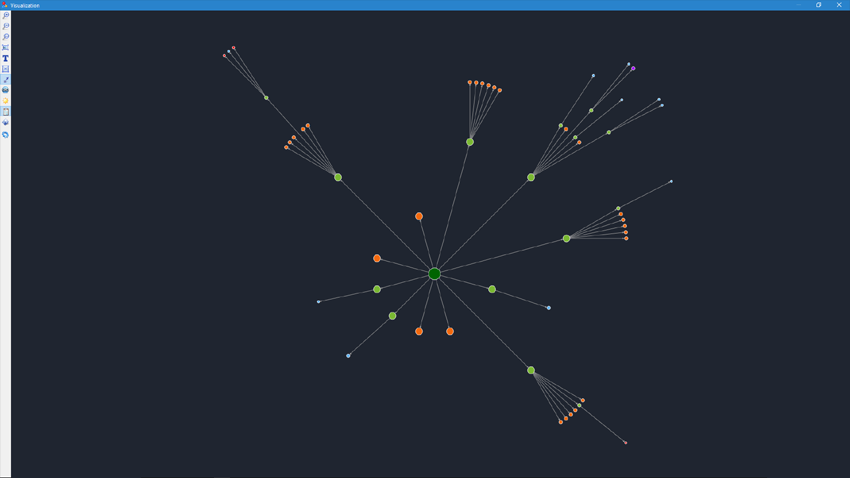 By the way, there are not that many web crawlers that offer this feature, so it is very nice to have it in SiteAnalyzer, which is a 100% free tool.
PageRank Checker
The PageRank tab allows you to calculate and display the numerical value of the internal PageRank for each page of the website. The value is calculated based on the internal links of the website.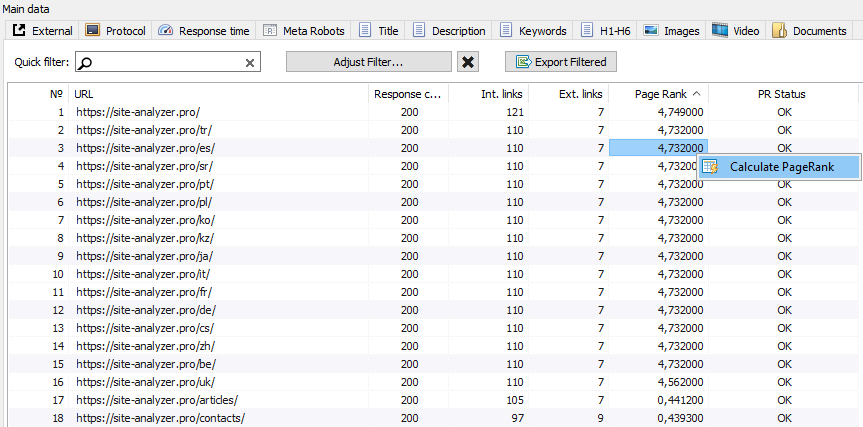 It allows SEO-specialists to analyze what pages have the most internal links and adjust them to redirect the link juice to more important pages.
Read this article to find out what is PageRank and how is it calculated >>
Indexed Pages Checker
The tool allows checking the indexing of pages in Yandex through Yandex XML or Majento XML. Click here for a detailed function description >>

By scanning the website, you can analyze what percentage of your pages are indexed in Yandex without using third-party services.
Dashboard
The Dashboard tab offers a detailed website optimization report. It shows all the errors and how serious they are.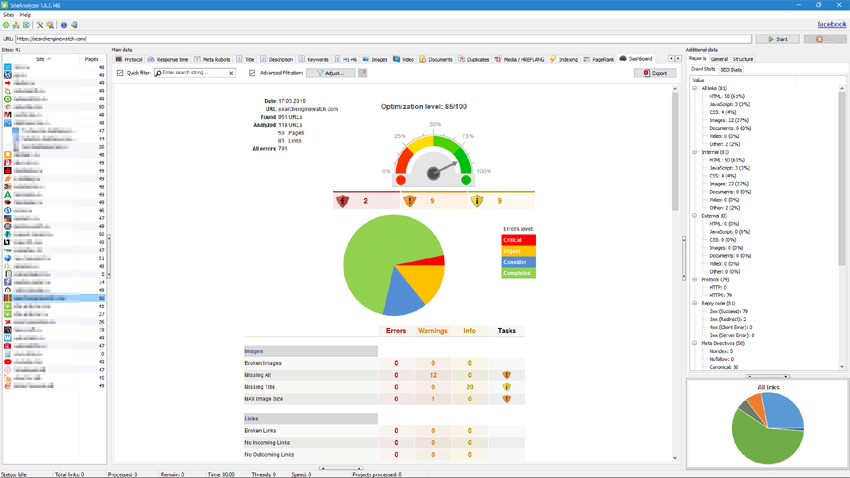 Additionally, the report offers the optimization score, which ranges from 0 to 100, and allows you to export data from the dashboard in the PDF format.
Conclusion
Among the other advantages of SiteAnalyzer are portability (the app works on PC without installation and can be run directly on removable devices) and regular updates. Both of these factors are very important when picking soft.
We are not planning to stop improving our product. We will continue to work as intensively and productively as it is possible!
Stay tuned for updates!
Go to the SiteAnalyzer Home Page >>
You must be logged to leave a comment.