The program SimpleWebAnalytics is designed to analyze web pages and get statistics via API of analytics systems of Google, Yandex and Ahrefs.com with the ability to export statistics (indexing, traffic, refusals, depth of view, etc.), the indexing status of pages and all keywords in Excel.
Google Search Console service statistics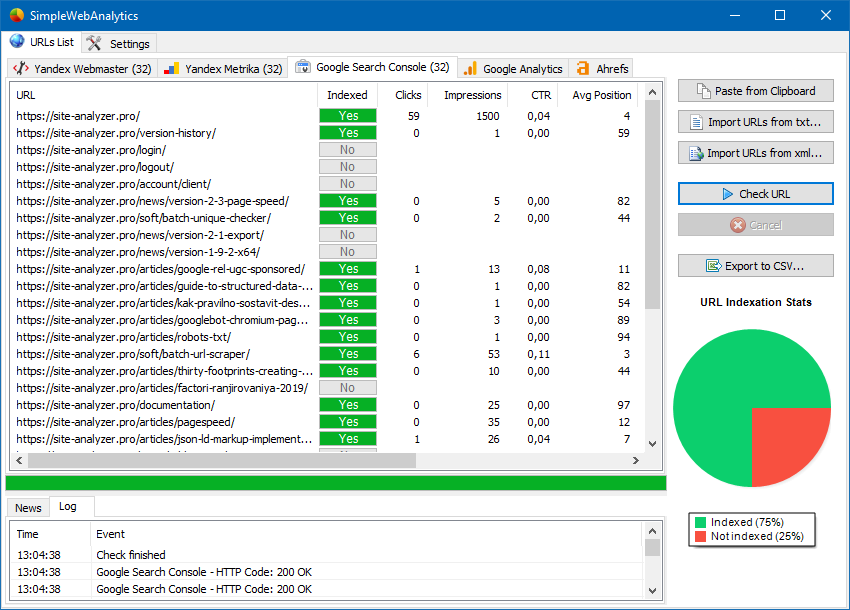 Google Analytics service statistics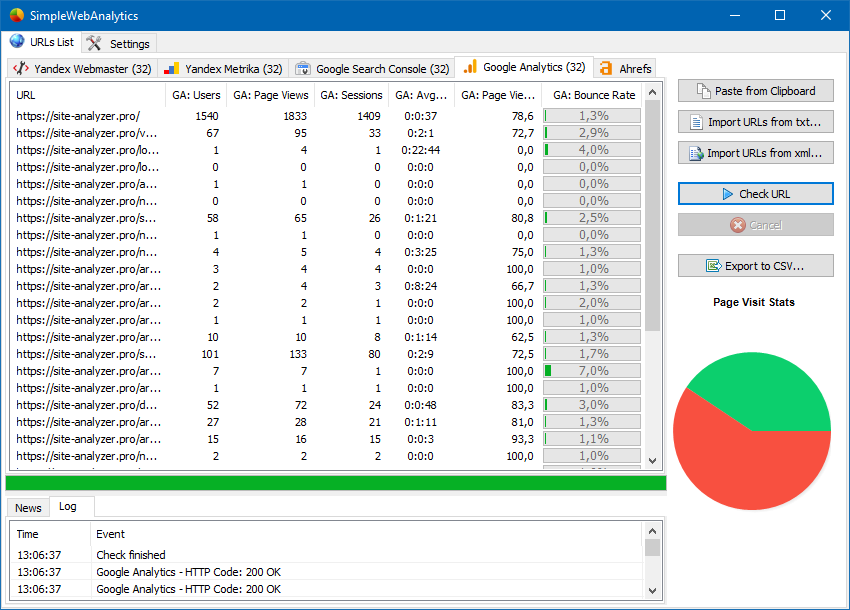 Yandex Webmaster service statistics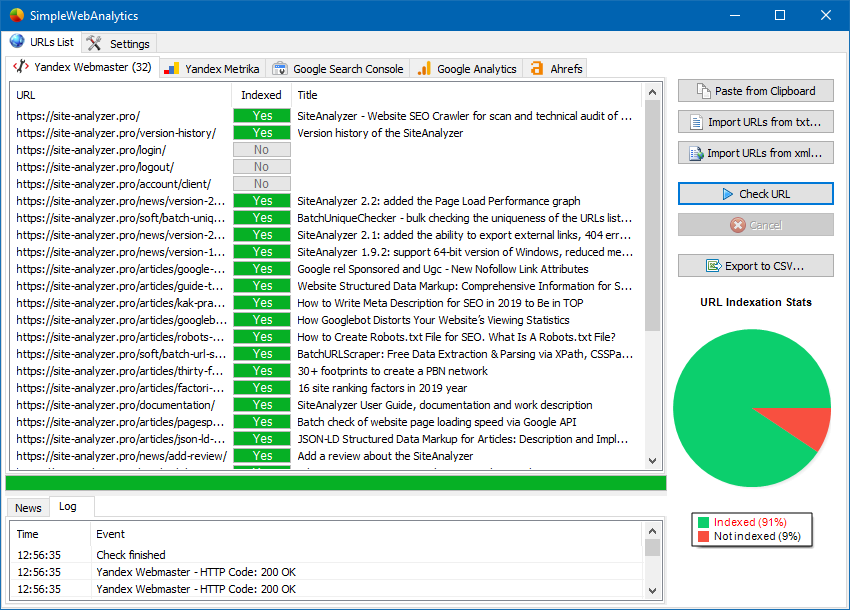 Yandex Metrika service statistics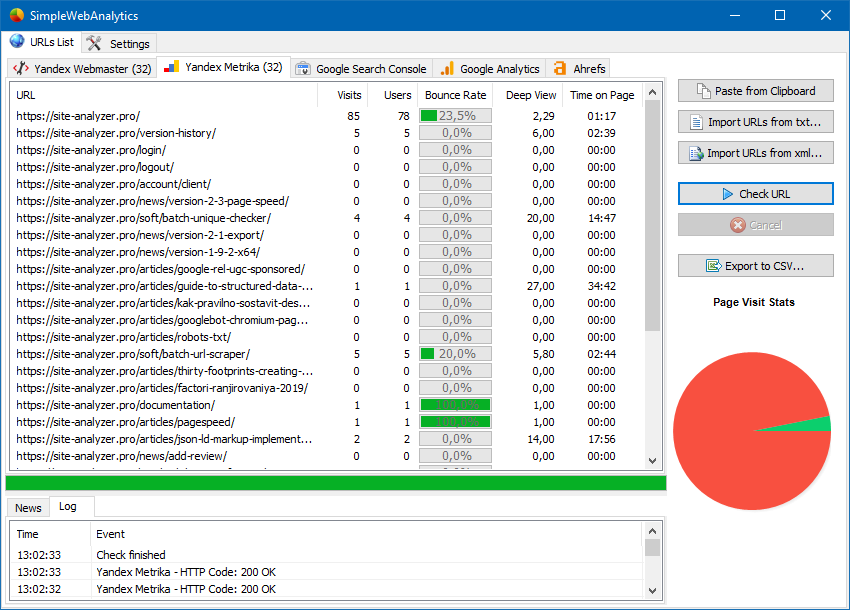 Ahrefs.com statistics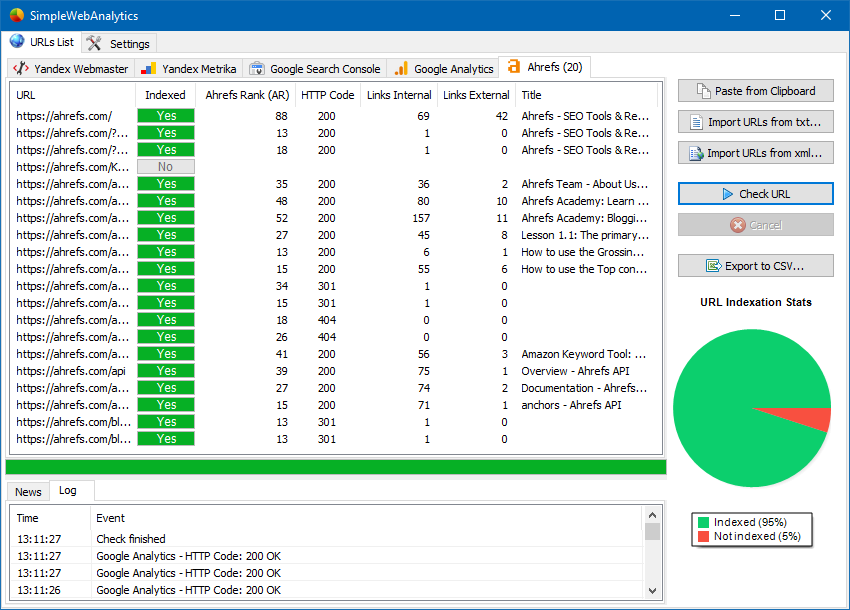 Program Settings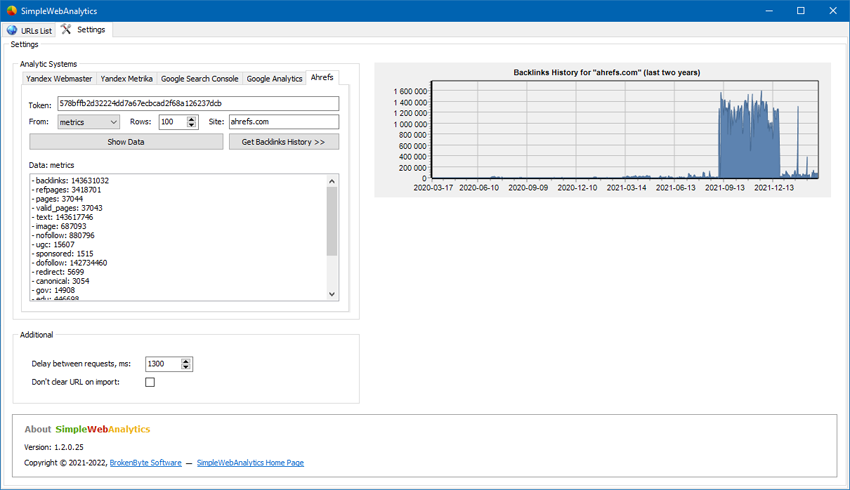 Google URL Indexation API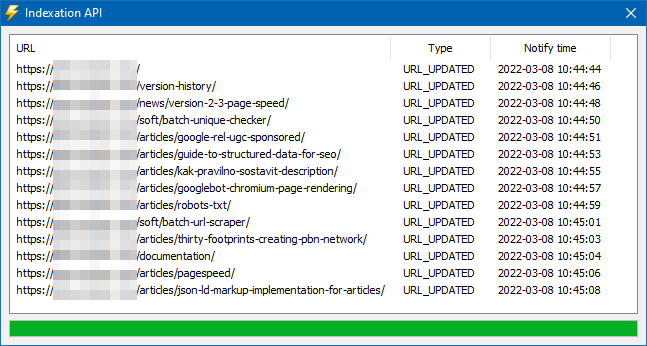 Export keywords from Google Search Console
Terms of use: Freeware
Key Features
Integration with analytics systems

Google Search Console
Google Analytics
Yandex Webmaster
Yandex Metrika
Ahrefs.com

Loading a list of arbitrary URLs and analyzing them in analytics systems

Checking the status of URL indexing in Google and Yandex
Determining the amount of traffic coming to the pages of the site
Getting a list of pages receiving less traffic
Getting a list of pages with a high bounce rate or low conversion
Detecting non-indexed pages in Google, Yandex and Ahrefs.com
Export site keywords from Google Search Console, Yandex Webmaster & Metrika
Submitting pages for indexing to Google via Google Indexing API
Displaying the dynamics of search queries on Google Trends

Data Export

Export reports to Excel (CSV format)
Differences From Analogues
How to use SimpleWebAnalytics
First you need to get tokens (special keys) to work through the API of Google, Yandex or Ahrefs – tokens for Google and Yandex can be obtained semi-automatically through the program itself and your browser (the key is copied into the program automatically after you authorize in your browser in one of the search engines).

Tokens for Yandex are issued for half a year, at Google they are issued for an hour (after their obsolescence you need to remove the old and add a new token again).

For the system Ahrefs API key can be generated in a user account on the site and then copy it to the program. In order to be able to get information about any site through the API, you must have a paid subscription.
Then, after getting the tokens in the main window of the program you need to download the list of site URLs (you can do it by importing URLs from the clipboard, as well as from *.txt or *.xml files), select the desired project from the list in the Settings tab for the selected statistical system and then click on "Check URL", then all URLs from the list will get data from the desired analytics system.
URL indexing through the GSC
To send the URL to be indexed in the Google search engine, first you need to get a token to work with this API (button Add -> Indexing API in the GSC settings), then select the URL in the main window and send them for indexing via the context menu.
Exporting keywords
To get all the keywords from the Google Search Console, Yandex Webmaster and Yandex Metrika statistics systems, connect to the corresponding API using the "Connect to Account" button, then choose the necessary project from the list and click on "Get All Keywords".
Version History
Version 1.2.3 (build 31), 01.11.2022:
fixed incorrect data export from Google Search Console to Excel
minor fixes
Version 1.2.2 (build 29), 27.06.2022:
fixed errors in exporting data from Google and Yandex to Excel
added missing data in the some columns in the export files
Version 1.2.1 (build 27), 14.03.2022:
expanded ability to import URL from 10,000 to 50,000 lines
fixed errors that occurred when checking URL statistics in the Google Search Console service
Version 1.2 (build 25), 09.03.2022:
added integration with Ahrefs.com analytics system
added ability to submit pages for indexing to Google via the Google Indexing API
added ability to get information about URL indexing via Google URL Inspection API
added ability to export all keywords from Google Search Console, Yandex Webmaster & Metrika
program interface has been updated, now all data and settings are displayed in one window
added ability to import a list of URLs from the clipboard, text files and Sitemap.xml
increased maximum possible number of imported URLs from 5,000 to 10,000
added ability to display the dynamics of search queries on Google Trends
added graphical display of traffic distribution by analyzed URLs
added graphical display of indexing quality of analyzed URLs
automated receipt of tokens for work in analytics systems
added ability to sort data in columns with statistics
added ability to change token aliases
Version 1.1 (build 18), 26.01.2022:
added integration with Google Search Console
unified interface of all forms of statistics systems
optimized and simplified way to get Tokens
Version 1.0 (build 12), 24.10.2021:
integration with Google Analytics, Yandex Webmaster and Metrika
displaying the main types of statistics
export data to Excel

Minimum system requirements
– 1 GHz (recommended 3 GHz and more)
– 1 GB RAM (recommended 8 GB and more)
– Microsoft Windows 10/8/7/Vista/XP
– Internet
You must be logged to leave a comment.