What is a Domain Name Generator?
It is a free tool, which allows you to create domain names by keywords using the intelligent search for synonyms. For instance, you can only choose the options containing the words "best, fast" or find domains that are no more than three words long.
Feel free to try multiple generation methods in order to get the best results and pick the most fitting domain names for your needs.
What is the Best Domain Name Generation Method?
The best way to create a website name – enter 2-3 words about your business or product in Keywords filed, select TLD in the "Extensions" checkbox and click the "Generate" button. Then click to the names you like, to see whether website you can register:
The taken domain names that you cannot use are colored red.
Free domains for registration are additionally checked for the presence of registration history on the Web.Archive. If there is a history of changes in domain information in the Web.Archive database, then you will see markers with a "Have a history" icon.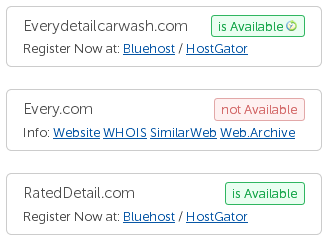 Advanced Options
Besides mixing and combining the keywords, our tool offers the Smart Domain Name Generation feature. Therefore, you only need to enter several keywords (2-4 keywords is the optimal number) to get domain names suggestions generated using synonyms and other words according to your request.
The "Prefix" and "Postfix" fields allow you to choose the words that will be automatically added to the generated names ([prefix]+[domainname]+[postfix].com -> mydomainnamebest.com).
Our tool generates hundreds and thousands of domain names. You can enter a website name's fragment in the "Filter" field to narrow down your choices. Our generator will only show you the domains, that contain the specific sequence of letters.
If you want to get domain name suggestions that include dashes, select the "Yes" option in the Dashes settings of the generator.
You can select the maximum domain length in words using the "Max Word Length" parameter. For instance, if you set this parameter to 3, then our tool will generate domain names that are no more than 3 words long.
Check whether a domain name is available. There is a "Get Info" button next to each generated name. Click it to see whether the domain is available in the selected TLDs. If it is already taken, you can get detailed information about the website.
When choosing the best domain name, make sure that it is unique, simple, concise, and easy on the ear. All these factors will affect its memorability and recognizability. We recommend you to use names that contain one or two words and no numbers.
You must be logged to leave a comment.
Popular SEO Tools / All Tools
| | | | | | | |
| --- | --- | --- | --- | --- | --- | --- |
| Text Relevance | Text Semantic | Redirect Checker | CMS Detector | Title & H1 Checker | Find Subdomains | Bulk Site Indexing |
| | | | | | | |
| URL HTTP Status Code | Sitemap Generator | Robots.txt Checker | Domain Age Checker | Text Unique Checker | UULE Generator | Link Extractor |
| | | | | | | |
| | | | SiteAnalyzer | | | |