The KeyClusterer program is designed to group the semantic core using the Hard and Soft methods. Besides clustering, KeyClusterer is also equipped with a feature of manual phrase grouping, which became available after auto clustering of search queries.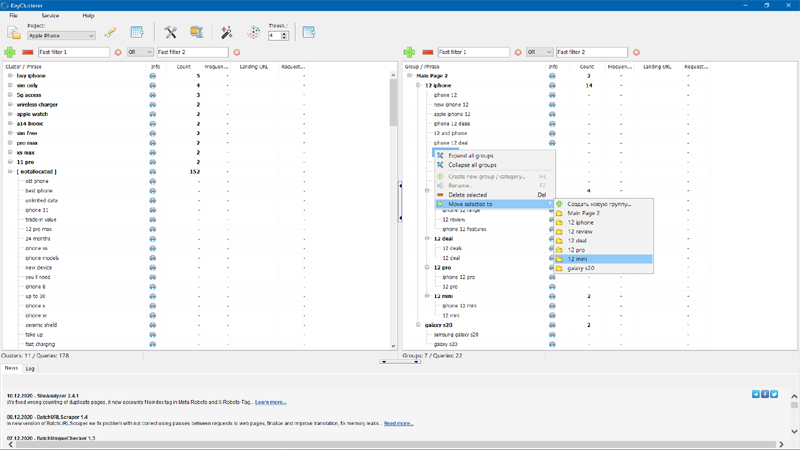 Manual query grouping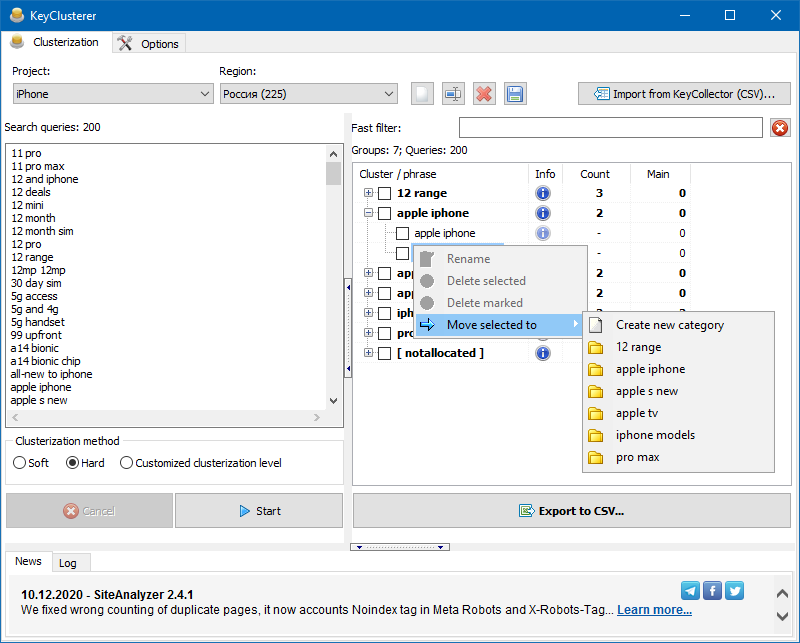 List of common sites in a cluster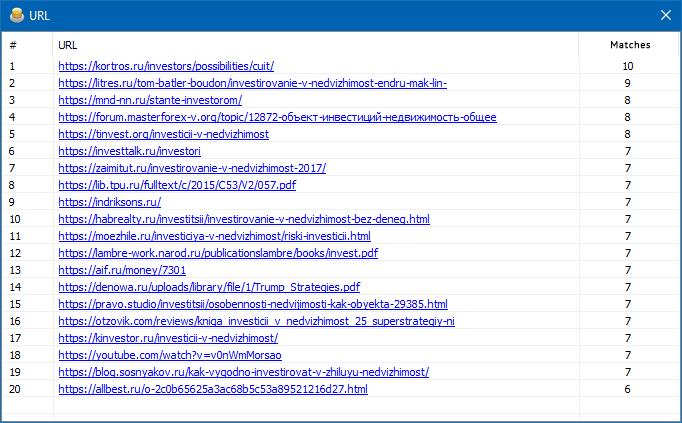 Terms of use: Freeware
Key Features
Clustering an arbitrary list of keywords using the Hard and Soft methods
Automatic grouping of search queries with "manual" specification of the clustering threshold (from 1 to 10)
"Manual" semantic core grouping, creation of arbitrary folders and groups
Importing SERP data from Google, Bing and Yandex for grouping phrases offline
Exporting clustering to Excel (CSV)
Differences From Analogues
Clustering semantic cores of almost any size
High clustering speed, fast switching between projects
Portable format (doesn't require installation from any internal or external storage drive)
Freeware
Data for clustering is collected from Yandex search results and is processed using Yandex.XML limits. After clustering, the manual query grouping becomes available (shifting queries by groups, creating new groups and deleting clusters). The clustering query results are exported to an CSV file (Excel).
The program can import search results from Google, Bing and Yandex SERP data to group phrases offline (see example of an import file in the archive).
Version History
Version 1.5 (build 42), 22.12.2020:
added the feature to store projects in a common database
added the feature to quickly switch between projects
added the feature to filter key queries by words and word parts
added the feature to change the font size in the program
optimized interface and usability
Version 1.4 (build 33), 23.11.2017:
added display of the number of master pages for each query and for a group of queries
Version 1.3 (build 31), 27.09.2017:
added the feature to view the most common sites in a specific cluster
fixed the bug when more than 2000 lines were not loaded in the query list field
Version 1.2 (build 28), 29.08.2017:
added the feature to specify a region in Yandex for collecting data during clustering
added the feature to "manually" specify the phrase clustering threshold (from 1 to 10)
added the feature to import Google, Bing and Yandex search engines SERP data from file to group phrases offline
Version 1.1 (build 22), 10.08.2017:
added the feature to manually group phrases
added the feature to export clustered groups to Excel (CSV)
Version 1.0 (build 5), 07.06.2016:
added the feature to cluster by queries from the list
added the feature to group queries using the Soft and Hard methods

Minimum system requirements
– 1 GHz (recommended 3 GHz and more)
– 1 GB RAM (recommended 8 GB and more)
– Microsoft Windows 10/8/7/Vista/XP
– Internet