The KeyClusterer program is designed to group the semantic core using the Hard and Soft methods. Besides clustering, KeyClusterer is also equipped with a feature of manual phrase grouping, which became available after auto clustering of search queries.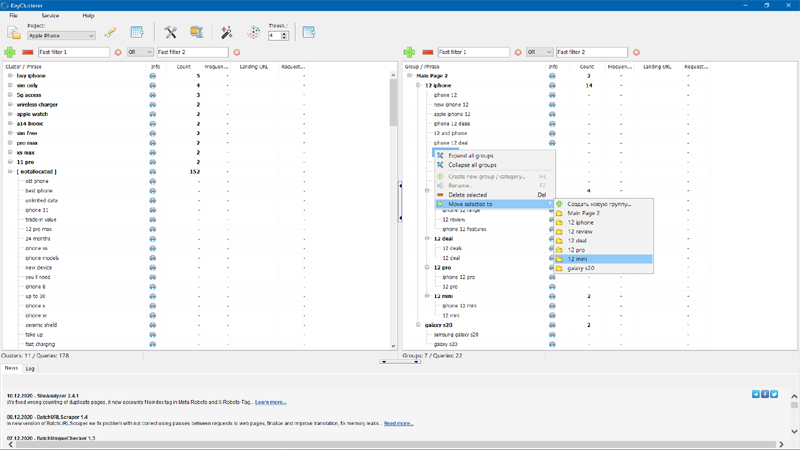 List of common sites in a cluster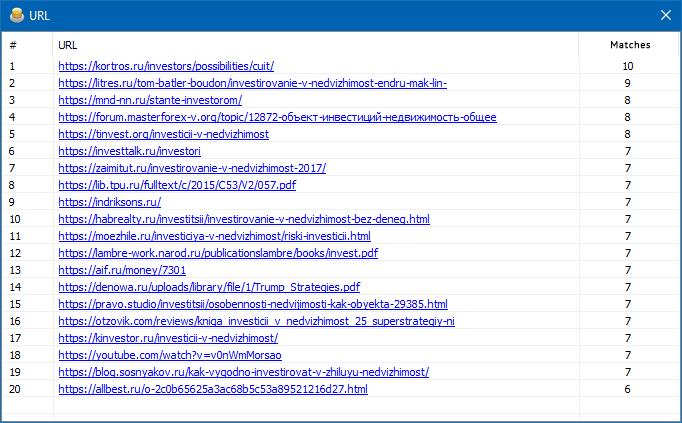 Settings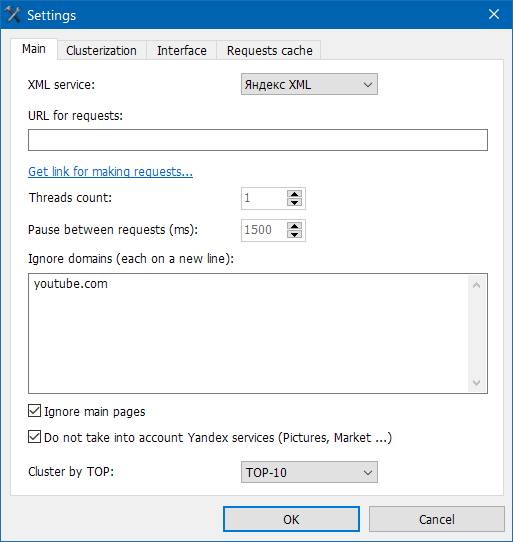 Terms of use: Freeware
Key Features
Grouping an arbitrary list of keywords using the Hard and Soft methods
Automatic grouping of search keywords with "manual" specification of the grouping accuracy (from 1 to 10 points)
"Manual" semantic core grouping, creation of arbitrary folders and groups
Checking positions on search keywords and determining the relevant landing pages
Importing SERP data from Google, Bing and Yandex for grouping phrases offline
Exporting clustering to Excel (CSV)
Differences From Analogues
Clustering semantic cores of almost any size
High clustering speed, fast switching between projects
Portable format
Freeware
Data for keywods grouping is collected from Google search results and is processed using SERPRiver. After clustering, the manual query grouping becomes available (shifting queries by groups, creating new groups and deleting clusters). The clustering query results are exported to an CSV file (Excel).
The program can import search results from Google and Bing SERP data to group phrases offline (see example of an import file in the archive).
Version History
Version 2.3 (build 185), 11.05.2021:
added multithreaded data collection (up to 10 streams simultaneously)
added direct import of data from Key Collector 4 (files in * .kc4 format)
added the ability to collect data for clustering in the Google search engine
added display of TOP sites by visibility (list of domains by the number of requests in TOP-10)
added the ability to select filtering parameters in the quick filter
fixed freeze that occurs when collecting search results data on a large number of queries
restored the ability to import a proxy list from a file and clipboard
Version 2.2 (build 178), 26.04.2021:
optimized the speed of import and clustering of queries
added the ability to undo the last actions when working with the semantic core
added the ability to use a list of stop words to manipulate key queries
added the ability to cut and paste groups and keywords
added the ability to move groups and phrases to any place in the list
added highlighting of found words and word parts when filtering data
added the ability to export data from the left panel
added an extended form for selecting the Yandex region
added dialog box for importing data from CSV
added the ability to work with proxy lists
added the ability to add queries to the current semantic core of the project
optimized work with sites-exceptions in the interface of the main settings of the program
when clustering, queries without collected data are placed in the [unallocated] folder
font size now changes only in the panels with requests, and not in the whole interface
added autodetection of the encoding of imported files
Version 2.1 (build 115), 08.02.2021:
added display of the sum of frequencies and average position in groups
added the ability to check relevant pages of key phrases by domain
added the ability to check query positions for Yandex TOP-100
added the ability to automatically rescan key phrases, the data for which were collected with errors
added the ability to remove duplicate search phrases
added the ability to clear previously collected project data
added automatic memorization of the width of the panel columns
added XML limit rental services: SERPRiver and XMLProxy
the program interface is optimized
fixed incorrect operation of the program with Cyrillic domains
fixed a bug that occurred when exporting key phrases to CSV format
fixed a bug that occurred when importing key phrases from the clipboard
fixed a bug where the pause between requests was used incorrectly
Version 2.0 (build 92), 25.01.2021:
completely redesigned program interface
transition to two-panel mode
significantly accelerated processing and clustering of keyword phrases
Version 1.5 (build 42), 22.12.2020:
added the feature to store projects in a common database
added the feature to quickly switch between projects
added the feature to filter key queries by words and word parts
added the feature to change the font size in the program
optimized interface and usability
Version 1.4 (build 33), 23.11.2017:
added display of the number of master pages for each query and for a group of queries
Version 1.3 (build 31), 27.09.2017:
added the feature to view the most common sites in a specific cluster
fixed the bug when more than 2000 lines were not loaded in the query list field
Version 1.2 (build 28), 29.08.2017:
added the feature to specify a region in Yandex for collecting data during clustering
added the feature to "manually" specify the phrase clustering threshold (from 1 to 10)
added the feature to import Google, Bing and Yandex search engines SERP data from file to group phrases offline
Version 1.1 (build 22), 10.08.2017:
added the feature to manually group phrases
added the feature to export clustered groups to Excel (CSV)
Version 1.0 (build 5), 07.06.2016:
added the feature to cluster by queries from the list
added the feature to group queries using the Soft and Hard methods

Minimum system requirements
– 1 GHz (recommended 3 GHz and more)
– 1 GB RAM (recommended 8 GB and more)
– Microsoft Windows 10/8/7/Vista/XP
– Internet